Badedas Bath & Shower Gel from England and Germany at The Soap Bar.Com

$45.00
Badedas Original Bath Gelee is the world-famous thick, dark green bath gel with the strong and refreshing fragrance of a lush forest. Made in the UK.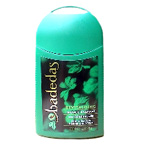 $10.00
Badedas Revitalizing, 3 in 1, Shower Gel, Shampoo and Conditioner combines the luxury of the Badedas range with the convenience of a 3 in 1...shower gel, shampoo and conditioner. A rich formulation with extract of horse chestnut and the distinctive Badedas fragrance. It gently cleanses and conditions your hair and body, leaving you feeling totally refreshed and revitalized. A great size for travel or gym bag.
$25.00
German Badedas "Vital" Original is made in Germany with the fragrance of horse chestnut essence known for its healthful properties, particularly beneficial with circulation. It has a strong, fresh pine-like fragrance, suitable for the whole family.