Health & Beauty > Personal Care > Cosmetics > Bath & Body > Body Wash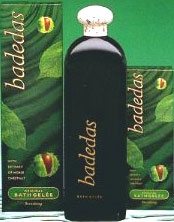 Badedas Original Bath Gelee 750ml
Badedas Original Bath Gelee 750ml
4
Average rating:

WRITE A REVIEW | Read all reviews
Price $45.00
45.00
Badedas Original Bath Gelee is the world-famous thick, dark green bath gel with the strong and refreshing fragrance of a lush forest. Badedas Bath Gelee relaxes and revitalizes the whole body helping to improve circulation and well-being. Infused with Horse Chestnut Oil, known in Europe for it's ability to improve circulation in the body, Badedas gently cleanses deep down leaving the skin soft, supple and beautifully refreshed. Perfect for the whole family, for bath or for shower! Very concentrated and very luxurious! Made in the UK. Temporarily out of stock until mid-May 2016. Please see the Badedas 300ml size. Also, we are taking back orders, in case you wish to be on the list.
Reviews
Badedas Original Bath Gelee 750ml
4
Average rating:

WRITE A REVIEW
|
Read all reviews
Featured positive reviews:
Badedas Original Bath Gelee 750ml

Badedas
11/30/2015
This is the greatest stuff. It smells wonderful - piney and springlike. We use it all the time and I buy it in multiple bottles and keep them on a shelf in our bathroom so that we always have it in stock. Plus the bottle is so attractive - much better looking than Vitabath, which I guess this is a version of.

I like it because it doesn't dry my skin out like a lot of soaps and gels. My husband likes it because it makes him feel so clean and the scent is woodsy, not flowery or too sweet. It is one of our favorite products.